Where to buy Art Supplies Auckland –
Art supplies Auckland can be found in a range of locations offering a wide range of products for both professional and hobby artist.
Gordon Harris
Established in 1975 by Gordon and Ann Harris, they have an impressive range of art supplies and are well worth a visit if you are in the Newmarket area.  Watch out for their regular sales – although this does tend to focus on hobbyist products such as Expressions Canvasses – which are often 60% off.
http://www.gordonharris.co.nz/
Gordon Harris has four branches in Auckland – Open 8.30 am – 5.30 pm – Monday to Friday (Most shops are also open Saturdays – but closing times differ)
Gordon Harris – Newmarket
4 Gillies Ave
Newmarket
Phone 09 520 4466
email: [email protected]
Parking: Good parking off Gillies Ave
Gordon Harris – Symonds Street
39 Symonds Street
Auckland City
Phone: 09 377 9992
This is a smaller showroom than their main Newmarket store and caters mainly to AUT and Auckland University art students.
Gordon Harris – Albany
Northridge Plaza
Don McKinnon Drive
Albany Centre
Phone: 09 415 3406
email: [email protected]
Studio Art Supplies
35 Crummer Road
Grey Lynn
Phone: 09 360 1238
Large showroom in Crummer Road with a specialist framer/stretcher on hand to create commission stretched canvasses for you.
French Art Shop
Located for many years in Ponsonby, the French Art Shop moved in 2016 to a new location in Sandringham.  Open Mon-Fri from 9 am to 5.30 pm and Saturday and Sun 9 am to 5 pm
The French Art Shop has a good range of brushes, paints and paper.  They specialise in custom made canvasses.
16 Taylors Road
Sandringham
Phone: 09 376 0610
email: [email protected]
Takapuna Art Supplies
Offering a good range of products.  Check out their regular art classes as well.  If you are interested  in art classes in Auckland you may like to check this directory listing.
Open – Monday to Friday 9 am to 5 pm Saturday 10 am to 2 pm
124 Anzac Street
Takapuna
Phone: 09 489 7213
Email: [email protected]
Frames By Daniel
Owned and operated by Daniel Metcalf since 2004, Frames By Daniel specialises in custom built supports, including stretched canvasses and box boards.  This is arguably New Zealand's largest supplier of art supports. They create a wide range of shapes including; oval, cross, heard, triangle, square, round and rectangle.
They also produce high quality custom made art boxes for shipping nationally and internationally.
Open Monday to Friday during normal business hours.
28a Henderson Valley Road
Auckland
http://www.framesbydaniel.co.nz/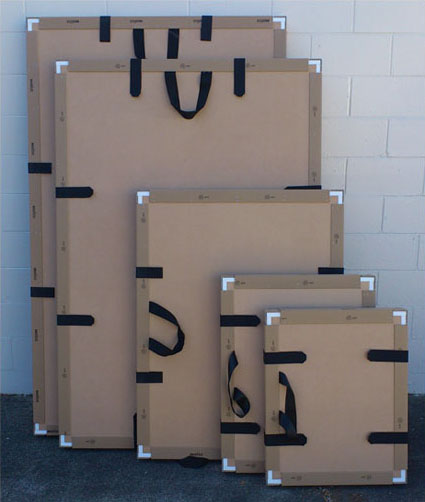 Phone: 021 660 599
email: daniel@framesbydaniel.co.nz